April IAY Graduation, December 20th, 2001
Hyung-Suk Lim, Master of Ceremonies
At 2:45 P.M., on Thursday, December 20th, 2001, in the Louis F. Capalbao Room (300 De La Salle) at Manhattan College, the International Academic Year contingent which studied at Aspect International Language Academy from April 25th to December 21st graduated. Their friends, classmates, teachers and members of the Aspect staff attended the celebration. Hyung-Suk Lim, April IAY student from Korea and a member of the April IAY yearbook staff, presided as master of ceremonies. The Aspect Christmas Choir led the audience in singing several carols, and Aspect teacher Lao Anthony closed the event with a jazzy rendition of "Silent Night" on the saxophone. Here are Hyung-Suk's opening words, along with links to each of the speakers she introduced. This full text of the ceremony was transcribed from a video provided by April IAY graduate Jae-Ho Sa. The transcription preserves the speeches accurately, including slight stylistic errors.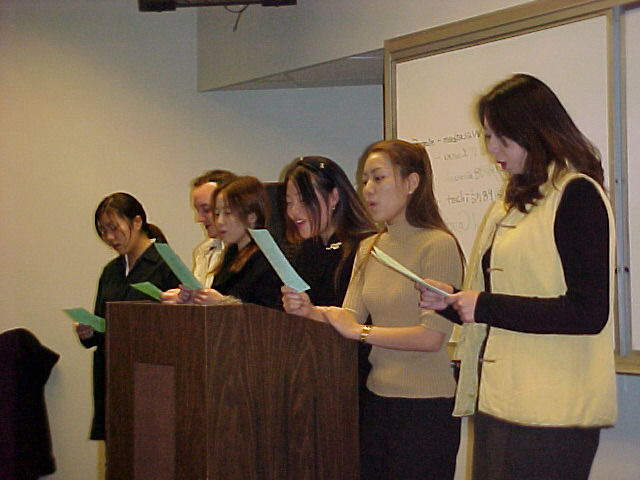 I'm Hyung-Suk Lim. I'm the master of ceremonies. Well, I remember when I came here, it was hot. Now the weather is cold. Time is really flying fast. Eight months is a long time to live in foreign country. We have had a varied experience and learned a lot of things about the U.S. and many countries through friends.
O.K., we did it well, don't you think so? O.K., let's start.
First, here are the congratulatory remarks from our academic director, Robb Scott. Please listen carefully.
Read the full text of Robb Scott's speech
Today we have five great student speakers. The first person, he comes from Bolivia, and he's on our great great yearbook staff, and he's a student council member. Let me introduce Alejandro Yanez.
Read the full text of Alejandro's speech
Let's continue, to our next speaker. She is also one of the student council members. And maybe, not maybe, I think absolutely, definitely, she is the tallest woman in Aspect. O.K., now our Taiwanese speaker, Ling-Hsien Chiang.
Read the full text of Ling-Hsien's speech
Our next speaker is Alberto Alvarez, who comes from Spain. He is the most bald person of all the April IAY students. O.K., it's your turn, Alberto.
Read the full text of Alberto's speech
She likes dancing very much. Everyone knows that. And also she is my best friend, so I'm very honored to introduce her. Akiko Yanagisawa.
Read the full text of Akiko's speech