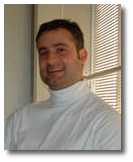 Timothy Gutierrez is actively involved with both the CALL SIG and JALT national by holding officer positions in both the CALL SIG (SIG Chair) and Hiroshima Chapter (Membership Chair). He has played an active role in the last two JALTCALL conferences and served as chair of the JALTCALL 2002 conference committee. He submitted this exclusive report on the event for the ESL MiniConference Online.
Hiroshima Jogakuin University on May 18-19 was the site of JALTCALL 2002: Local Decisions, Global Effects; the 7th annual International conference of the Japan Association for Language Teaching Computer Assisted Language Learning Special Interest Group. Over the course of three days, around 180 teachers came to participate in a lively pre-conference workshop at Hiroshima University and participate in just over 80 presentations and workshops.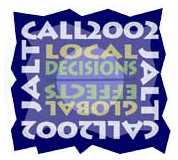 The pre-conference workshop consisted of two hands-on workshops and pre-conference lunch and dinner. There were just over 15 participants in both the streaming video workshop given by Hiroshima University professor Brian Teaman and the software evaluation workshop given by Hiroshima University Professor, Joe Lauer. Highlights from the streaming video workshops can be seen at <http://home.hiroshima-u.ac.jp/~teaman/workshop/>.
Clear blue skies accompanied the start of the conference. Conference chair Timothy Gutierrez welcomed the 150 first day participants to JALTCALL 2002. The highlight of Saturday was the keynote address given by Mike Levy of Griffith University entitled, "CALL Integration: The Goals, the Options and the Learners," which addressed the question of how CALL can be integrated into a language learning curriculum. Also, over 40 presentations, workshops and poster sessions, including a PAN-SIG panel discussion of how the the special interests of Global Issues, Other Language Educators, and Pragmatics are integrating computer's and internet technology in the classroom.
Sunday's schedule was a bit less dense, with just under 40 presentations, workshops, and poster sessions. It was certainly just as vibrant with a featured speaker presentation by Chubu University Professor Yoshimasa Awaji, demonstrating the use of Wiki Clones in the language classroom, entitled "Wanna Wiki Wiki? An Introduction and Comparison of Wiki Clones." The conference was closed off by a final panel discussing the future of CALL hosted by Past-Chair, Paul Lewis which brought to the stage featured speaker Mike Levy along with Kip Cates and Brian Teaman of the Global Issues SIG, and Dyned Japan President, Bill Gatton.
JALTCALL was widely acclaimed as the most successful JALTCALL conference to date.
Reported by Timothy Gutierrez, Kure City Board of Education
timothy@gutierrez94580.com / www.gutierrez94580.com.
JALTCALL 2002 Conference Chair
Hiroshima, Japan
2002 ESL MiniConference Online
The JALTCALL 2002 Logo (above) was designed by Malcolm Swanson <www.pukeko.ws>.
See the report on Hot Potatoes, also from JALTCALL 2002, by Chris Elvin, presenter.