Central States Leading the Profession
Autumn ESL/CLD Events Underscore Growing Midwest Influence in America
Conventional wisdom would have us believe that economic and cultural trends in America typically start on the west coast or the east coast. But recently both the left and right shorelines appear to have become transfixed by political and social cynicism and power struggles, while the Midwest has been emerging as the trend-setting leader in many fields.
New Centers of Creative Activity Emerge
Kansas City, Des Moines, Boulder, Oklahoma City, and St. Louis are today's connect-the-dots that outline an area of intensity, creativity, and innovation together with growing optimism in sharp contrast to the entrenched traditionalism, political infighting, and inept policymaking typified by former power-centers, such as Los Angeles, Dallas, Miami, and New York City.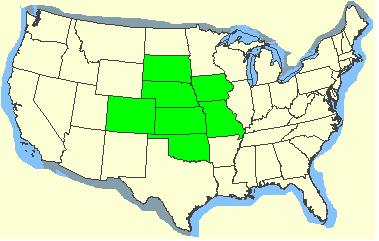 Where is the Council of Chief State School Officers holding its "Third National Meeting on Strengthening Partnerships for the Education of American Indian, Alaska Native, and Native Hawaiian Students"? In Rapid City, South Dakota, on October 16-18. The objectives of this crucially important CCSSO meeting, with Indian Education Directors from across the United States, are:
Share state team accomplishments since the 2004 meeting in Blaine, Washington;

Provide an opportunity to state Indian education coordinators to share strategies for implementing best practices on a statewide basis;

Create an opportunity for chief state school officers, tribal leaders and tribal education leaders to discuss common interests and develop plans for future partnerships; and

Provide OIE, BIA with an opportunity to discuss how they can assist states in their school improvement efforts.
(Objectives from Online CCSSO Agenda)
There are many very interesting activities and events on the agenda, ranging from focus groups on high school redesign to a field trip to the Crazy Horse Monument and Mount Rushmore.
Results of previous meetings in this important series include PowerPoints on "Best Practices for Teacher Development: Cultural Foundations of Indian Education," "Teacher Training Students," and "Teaching Language and Literacy to Native American Children." These items are available for download at the CCSSO information site.
Rocky Mountain High, 29th Year Straight
Colorado TESOL holds its 29th Annual Fall Convention and Exhibition on November 4-5, at the Radission Southeast Denver and Convention Center. The conference theme is "Much Ado about Teaching: Linking, Learning, Laughing." Among the important speakers are: Christine Coombe, President of TESOL Arabia and the Conference Chair for TESOL 2006 in Tampa, presenting on "Test Preparation Strategies for Teachers and Students"; Elliot Judd, TESOL President (2005-2006), speaking on "Politics and Language Policy in the U.S."; and Maryna Tsehelska, Member of TESOL-Ukraine, Chair of the English Language and Methodology Department at Kryvyi Rih State Pedagogical University, Ukraine, and currently Fulbright Scholar at Hawaii Pacific University.
To read the ESL MiniConference report from CoTESOL 2003, please click here.
In Lincoln, Nebraska, on October 12th, is "Nebraska Comes Together," a day to demonstrate strong mainstream demand in the midwest for positive immigration reform. According to advance information from Ed Leahy, of Nebraska Appleseed, "across Nebraska, people agree that local families need help reuniting, that family breadwinners need clear legal status while they are working, living and paying taxes in our area, and that we should provide a pathway to citizenship for our newest neighbors." October 12th will be a day for action: community training, from 9-11 a.m.; public rally at noon; and conversation with elected officials, from 1-4 p.m. This exciting and important agenda is set for the Women's Club, in Lincoln, Nebraska.
New Frontiers in Education of Exceptional Children
On October 13-14, special educators from across Kansas and the Midwest will converge on Wichita, Kansas, for the 43rd Annual Conference of the Kansas Federation of the Council for Exceptional Children, featuring sessions on "Using Handheld Computers to Improve Literacy Skills of Students with Special Needs" (Ron Fahey and Christy Cox, Fort Hays State University), "The Gap between Theory and Practice of Access to the General Curriculum for Students with Disabilities: Implications from Teachers" (Suk-Hyang Lee, University of Kansas), "Engaging Diverse Learners through Culturally/Linguistically Responsive Instructional Management and Assessment Strategies" (Janet Klein, KU Juniper Gardens Children's Project), and "Educating English Language Learners: It's All About Access" (Ann Will, Shelly Webb, Socorro Herrera, Project CASITAS).
On October 21-22, MIDTESOL will hold its annual fall conference, with the theme "Ways with Words," in Lee's Summit, Missouri. Keynoters include: David Red, Coordinator for Adult ESOL for Fairfax County Public Schools in Virginia; Ronald Long, Professor of English and TESL at Central Missouri State University; and Jayme Adelson-Goldstein, author of The Oxford Picture Dictionary, Listen First, and Read and Reflect: Academic Strategies and Cultural Awareness - all under the imprint of the Oxford University Press.
K-State to Host 2006 Kansas TESOL Gathering
The major event in the Midwest region shaping up for early 2006 (February 3-4) is the 24th Annual Spring Conference of the Kansas Association of Teachers of English to Speakers of Other Languages and Bilingual Educators (KATESOL/BE) at Kansas State University, in Manhattan, Kansas. KATESOL Conferences the past few years have drawn participants from Colorado, Nebraska, Iowa, Missouri, Arkansas, Oklahoma, and well beyond, and the upcoming event in Manhattan ("Little Apple") promises to set a new high standard for practical, relevant, research-based education of language teaching professionals.
The Conference Chair for KATESOL/BE 2006 is Socorro Herrera, Co-Director of K-State's Center for Intercultural and Multilingual Advocacy (CIMA), co-author of "Mastering ESL and Bilingual Methods: Differentiated Instruction for Culturally and Linguistically Diverse (CLD) Students" (Allyn and Bacon, 2005), and First Vice-President of KATESOL. The President of KATESOL is Della Perez, Associate Director of CIMA at K-State. KATESOL Conference Weekend will kick off on Thursday, February 2nd, with a Pre-Conference Institute bringing together participants from at least six different grant projects currently being administered by the CIMA Center, including literacy, ESL, and multicultural approaches to special education.
For a report from KATESOL/BE 2004, please click here. Streaming video from several sessions, and DVDs of all the sessions, are available through Fort Hays State University, which hosted the 2004 event.
Immigration, Diversity, Equity on the Rise in U.S. Heartland
The truth of the matter is that while at some places in the United States ESL/EFL programs and interests are waning, there is strong, consistent growth in Kansas and the rest of the Midwest, where more and more states and institutions are implementing immigrant-friendly and pro-diversity policies.
For example, Kansas immigrants who have attended a Kansas high school for three years and graduated are allowed to enroll at state-resident rates for higher education at Kansas institutions of higher learning. And, contrary to a national trend of depressed international scholar enrollments on American university campuses, the intensive English programs at Kansas State University and the University of Kansas are experiencing stability and growth, thanks to long-term thinking and constructive, reasonable policymaking at these institutions and at governing agencies.
The Midwest may be at the heart of developing new trends in the areas of ESL/EFL, language learning and cultural diversity, but the profession at national and global levels is experiencing benefits from our positive growth and leadership in these important areas.
The central states of North America are fast becoming the strong engines of the TESOL and bilingual education professions. If you want to see where these fields are going to be in another 15 or 20 years, come and take a look at what is happening in Kansas, Nebraska, Missouri, and Iowa today.
I hope you can make it to one of the events listed above. ESL MiniConference Online will strive to bring reports from each of these meetings to share with the more than 11,000 monthly readers who depend on our articles to keep abreast of trends and developments in this remarkable field of interest common to us all.
Article by Robb Scott
Robb@ESLminiconf.net

2005 ESL MiniConference Online