Developing Workforce Skills:
Review of Pro Lingua's "What's Ahead?"
By Robb Scott
It is so neat when I get a chance to catch up with the Pro Lingua book publishing team, whether through an e-mail alert about a new book or running into Ray or Andy at conferences. There is something unique and inspiring about each Pro Lingua project--and they've been cranking them out regularly for more than 40 years now. This is the real "Mom and Pop" shop and these are "the Mamas and the Papas" of ESL, language learning, and cross-cultural understanding.
The last time I spoke to Andy Burrows was nearly three years ago, at a career education conference in Denver when I was directing adult transition services in Lamar, Colorado. I had found a number of their titles to be useful for teaching the English language learners in our program, including "The Sanchez Family," "Superphonic Bingo," "Celebrating American Heroes," and "English Interplay."
As you open up any book published by Pro Lingua Associates, you are greeted by their motivating and reassuring mission statement:
At Pro Lingua our objective is to foster an approach to learning and teaching that we call interplay, the interaction of language learners and teachers with their materials, with the language and culture, and with each other in active, creative, and productive play.
It was wonderful to see that Pro Lingua now has a very active adult-learning, career education library. At the end of May this year, their summer debuts included "What's Ahead? - Transitioning from Adult Education to a Career," by Barbara D'Emilio and Ruth Ticktin. I ordered up a copy of this new textbook, and received it a few days ago. The ISBN number is 978-0-86647-352-1. The list price is $19.50 and there is a nice teacher guide for $7.50. It took less than a week for these items to arrive via regular U.S. mail, from Brattleboro.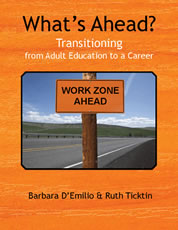 I realize that if you are a well-established, seasoned veteran career preparation or community ESL administrator, you may not be in the market for this type of a book. By now, you have probably resigned yourself to the accepted canon of texts and materials available through the two or three publishing giants which have established hegemony over the international textbook markets.
But if you have a new post as a program director, or if you are part of a curriculum re-development team at a mid-sized school or program serving individuals with limited literacy in their first language or first or second generation immigrant adults who did not complete high school, then I strongly encourage you to investigate the entire young adult and adult ESL library at Pro Lingua as well as their rapidly growing collection of career and work-force oriented textbooks and materials.
For half a century or more, these Vermonters have been involved in global education, cross-cultural training, and language-teacher preparation, developing projects and working as instructors at the local World Learning, Inc., organization which was once known as the Experiment in International Living, or simply "the Experiment," dating back to the 1960s. Another well-known name for the Brattleboro-based graduate school where several of the Pro Lingua founders got their starts in global education was the School for International Training, or S.I.T.
This new career-prep text, "What's Ahead?," fits the prototype they developed and have perfected, in being research-based, supporting language learning with interesting contexts, and striking a nice balance instead of being too prescriptive or too open-ended. The lessons are relevant to the needs of adult immigrant learners to acquire the communication, problem-solving, critical thinking, and teamwork skills to succeed in today's American workforce.
Each unit explores a different segment of the workforce, such as health-care, green economy, self-employment, computer technology, hospitality, and education jobs. A unit starts with a brainstorming activity, followed by key vocabulary and a short bio/story to build the context. These are followed by more technical readings, discussion activities, practical writing tasks, job skills and research tasks.
A Pro Lingua book is just different from what the mega publishing corporations can produce. This is a niche dedicated to thoughtful, innovative, progressive teachers who see their vocation as an opportunity to contribute to America's future, global peace, and intercultural understanding.
The newest Pro Lingua catalog arrived with this book I ordered, and, even though I am not directly working with work-force or career preparation right now, I found a number of items that sounded great, including: "My Thoughts: A Freewriting Journal," "Gramatica del ingles: Paso a paso / English Grammar: Step by Step," "Bumper Sticker: Witty, Thought-Provoking Sayings from North American Highways to Think, Talk, and Write About," "In My Opinion: A Photocopyable Collection of Opinion Gap Discussion Topics," "Surveys for Conversation," Lou Spaventa's new "Improvisations for Creative Language Practice," and "People at Work: Recorded Interviews with 10 Real Working People."
I can imagine bringing some of these texts and materials together, in tandem with a work-force skills program, and to support successful outcomes on the new GED test format for non-traditional adults and recent high school non-completers, to generate tremendous enthusiasm and motivation for learning and preparing for employment in the new American economy.
"What's Ahead?" belongs at the center of such a career-skills pathway course.


Article by Dr. Robert Bruce Scott, Ed.D.
drrobbscott@gmail.com
Manhattan, KANSAS

2013 ESL MiniConference Online

PDF conversion by PDF Online