Michael M.T. Henderson has published on the phonology and morphology of Persian and on computer-aided dialectology. His interests include the effects of second language acquisition on the learning of subsequent foreign languages, and the role modern phonological theories have to play in the description of interlanguage phonology. In the "Intro to TESL" classes he used to teach at the University of Kansas, Prof. Henderson would often remind prospective ESL teachers that there was only one rule: "Know why you are doing what you are doing at all times."
Some Michael M.T. Henderson links:
Email: mmth@sunflower.com
Downloadable IPA Fonts, Copyright 1997, Michael M.T. Henderson
M.A. Comprehensive Exams, 1995-1999, K.U. Dept. of Linguistics (Michael M.T. Henderson, chair)
Stylistic Variation and Underlying Structure (1978)
An ESL MiniConference Online interview
with Michael M.T. Henderson: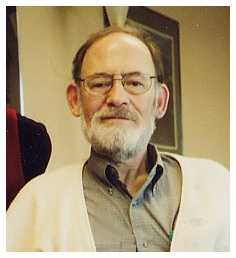 What is your main ESL activity now? What are your principal projects, and what is on the back burner?
I'm retired now and in rather poor health, so I'm not actively involved in ESL. Someday I'd like to write a book as part of my career-long effort to bridge the gap between theoretical linguistics and practical language teaching, reducing (I hope) the fear and loathing language teachers have for linguistics. My own first introduction to linguistics came from my wife, who had found out about it through her formal training in language teaching, and we both found it so much fun that we never looked back.
How did you start your ESL career? Who influenced your decision? What were some important formative experiences in the early stages of your development?
Again, I followed my wife to her classes at Teachers College Columbia University. They were so much more fun than my own graduate music studies at Harvard that I switched after only one semester. Finding out why I was good at languages, and how languages differed, opened my eyes.
I did have one formative experience in high school in 1958, when my Cuban-refugee Spanish teacher was trying to translate "podremos" into English for the class. "We will can?" she said, to the mystification of most of the class. I figured it out and said, "We will be able." One of my classmates murmured "He knows more than the teacher." If true, it was only because of Seņorita Andujar, the fearsome Spanish teacher in my previous school, who had forced us to stand in front of the whole class and retell, in our own words, the stories from El Camino Real--the popular textbook of that age--while she heckled us from the back of the room.
What are the four or five language/culture backgrounds with which you are most familiar as a teacher? Which ones are you familiar with from the perspective of a language learner yourself? What insights have you gained in how to meet the needs of English learners from these cultures and language backgrounds?
I started with Latin in the sixth grade and then Spanish and German in high school and college, then moved on to Persian and Pashto when my wife took me to Afghanistan. I've taught ESL to mixed classes, and administered ESL and other programs in Afghanistan, Libya, and in Lawrence, KS, coming to direct the KU Applied English Center in 1975.
If you had to give three pieces of advice to a new ESL teacher, what would they be?
A. Learn at least one foreign language, preferably the one spoken by the majority of your clientele.
B. Keep studying that or another language. In all likelihood, your students are going to be much better at English than you are at their language; you owe them the courtesy of trying to do what you are requiring of them.
C. Use your students' errors to learn more about their NLs and about the process of SLA.
What do you see as the most important issues facing the ESL/EFL teaching profession today?
A. The dumbing-down of the profession to where it's just another "subject" rather than the most important tool the students have.
B. The combination of ESL with math or Phys. Ed. Or some other irrelevant subject.
C. The divorce of ESL from "pure" linguistics -- a fault of both parties, neither of whom wants to know about the other.
Interviewed by Robb Scott
2002 ESL MiniConference Online