A Modern-Day "Fort Riley of Education"
Building a cooperative school spirit for English language learners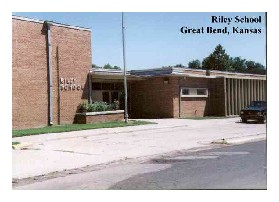 On Friday, August 16th, 2002, I was invited to join the staff of Riley Elementary School in Great Bend, Kansas, for their annual "Home Welcome Visits." Classroom teachers, each accompanied by another member of the Riley staff, stopped by the homes of all 20 of their new students to let them know who their teacher would be, remind them that school starts on Monday and encourage them to get ready for some exciting learning!
The Riley School was named for Major General Bennett C. Riley, who in 1829 led the first military escort along the famous Santa Fe Trail, an important commercial route for Americans and Mexicans. A trading post, Fort Zarah, was built at Great Bend in 1855, allowing the expansion of the Santa Fe Trail farther west, along what today is Highway 56, through Dodge City, Kansas, and Highway 50, through Garden City, Kansas.
Another important institution named in honor of the famous military man is Fort Riley, built a little further north in 1853 to protect trade and migration along the Santa Fe as well as the Oregon trails. Fort Riley, still a key U.S. military outpost today, protected the first railroad lines laid across Kansas, after the end of the Civil War in 1865. In that conflict, Fort Riley served the Union Army because Kansas entered the Union in 1861 as a "Free State."
Great Bend and Kansans today find themselves at the center of another important national struggle, over America's growing cultural diversity and how to educate new English language learners in our public schools. The challenge for Riley Elementary School has been analagous to that faced by the brave soldiers of Fort Riley and by Major General Riley himself years ago: to safeguard the educational journey for a new generation of migrants who face severe hardships as they attempt to claim their portion in the American Dream.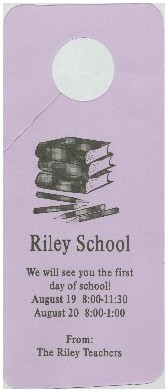 Of Riley's 424 students (grades K-6) in the 2001-2002 school year, 79 percent were Hispanic and 96 percent, categorized as "economically disadvantaged students." In many of the homes our team visited on Friday the parent could speak very little if any English. Yet the school is outperforming its peers across America and there is a contagious air of enthusiasm among all the instructional and support staff, led by a super-enthusiastic principal, Ruth Heinrichs, who shared her 5-year school improvement plan with me last week when I visited.
"We are very excited about what is happening at Riley," said Ms. Heinrichs, who credits school-wide prevention, family-support teams, "21st Century" after-school clubs and a fully embraced "Success For All reading program (and SFA math now being implemented, too).
English language learners at Riley are in regular classes from day one, except for what is initially an hour and a half daily of ESL (during science and social studies) with as much bilingual Spanish support as they need. The ESL classroom has a divider separating the early ESL bilingual side, with a native Spanish-speaking teacher, from the later ESL all-English side, with a native English-speaking teacher.
Within just a few weeks, new ELLs at Riley are usually beginning to participate with some confidence in their regular classes, according to Principal Heinrichs. "The affective filter throughout our whole school is very low," she explained. "The older kids often don't need any ESL after one year, younger kids sometimes need it a little longer." In addition, because a number of students at the school can speak Spanish, new students always have "peer interpreters" ready to help them in English-intensive classes like science, language arts and social studies.
Another key feature of Riley's approach to building a positive, challenging and cooperative learning community in their school is the hour and a half, from 9:45 to 11:15, every day for the SFA reading program. Riley's SFA program takes just the stories from Great Bend USD 428's basal readers, and expands on these using the "Success For All" (successforall.net), rotating through a strict sequence of learning styles, following scripted teacher instructions for sparking discussions about what students read and building vocabulary skills.
For this nearly sacred part of Riley's daily routine, students are grouped not by their current grade level or ability, but by "instructional levels," from a non-English speaking level all the way up to a 9th grade reading level. Everyone in the school participates, including Title I personnel, reading recovery specialists and librarians, so the teacher/student ratio is greatly improved during this reading time. At 8-week intervals, students are retested and regrouped, according to Principal Heinrichs.
The T-shirt I received on "Home Welcome Visits" day proudly proclaims that Riley is "The School That Reads!" Mrs. Heinrichs told me that in the hallways of the school you can hear students talking to each other about books they are reading, with great enthusiasm and interest, as if a child more like what we might imagine were discussing a new videogame or MTV music video.
When Kansas Governor Bill Graves and Republican gubernatorial candidate Dave Kerr recently observed SFA reading at Riley, recounted Mrs. Heinrichs, one student asked another to support an opinion he had just stated by providing evidence from the text they had been reading. "Great!," said Mr. Kerr, according to Principal Heinrichs. "They're raising a bunch of lawyers here."
The home visits on Friday gave further evidence that something out of the ordinary is going on at Riley Elementary School. In most cases, students' eyes brightened when we reminded them that classes would start on Monday morning. "I can't wait" was a typical comment, or "I already know what I'm going to wear." According to my teammates, computer coordinator Kathy Hayes and 5th grade teacher Phil Heekey, this was all the more remarkable given that 250 Riley students took advantage of a hugely popular summer school program, so these kids had only been at home for four weeks since that ended.
Future projects for Great Bend's USD 428, which includes Riley, four other public elementary schools, a parochial school, a middle school and a high school, are going to deal with ensuring a smooth transition for Riley graduates into a larger cross-section of Great Bend in grades 7 through 12. Some of this is happening naturally, though, explained Ruth Heinrichs. "The principal at Great Bend Middle School keeps hiring away my teachers," she said, smiling, "so the students we send there are going to be seeing some familiar faces."
It looks like the modern Santa Fe Trail leads through Riley Elementary School in Great Bend, Kansas, where teachers and the entire staff are determined to give the young minds in their care safe passage to full participation in our ever-more diverse American society.
Reported by Robb Scott
2002 ESL MiniConference Online