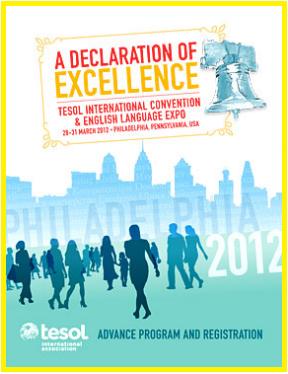 Late
Autumn 2011
Training
Trainers
by David
Hopkins
Post-
Secondary
Outcomes
for
Latinos
by
Robb
Scott, Ed.D.
Expanding
the Goals
of
ESOL
by
Alvino
Fantini,
Ph.D.

/Index/
/Letters/
/Profiles/
/Search/
/Podcasts/

Subscribe
for free!



Late Autumn Issue, 2011
"A Few More Skills to Integrate: Teaching ESOL for Intercultural Competence" by Alvino E. Fantini, Ph.D.
... Despite many important advances in our field over the years, intercultural concerns remain primarily within special interest groups. A more effective response to these concerns, however, must involve our collective efforts. As Sercu (2006) proposes, we may need to broaden our professional identity. For this to happen, however, we need to reexamine our goal and our role as language educators. ...

"How Are the ESL Teachers You Mentored in that Four-Week, Intensive Training Doing Today?," by David Hopkins
...I would suggest that "effective teaching practices and competencies" should not be divorced from the principles on which they are founded. The perspective that "trained" teachers are merely journeymen and women, who apply techniques, misses the point that all teachers base what they do on their own beliefs. It is important to connect the ideas and the actions at the earliest possible stages. ...

"Do America's Hispanic Students Need Empowerment Curricula?," by Robb Scott, Ed.D.
...The enormous school system of New York City and the less populated districts in southwestern Kansas have in common the high drop-out rates for Hispanic/Latino students. One remarkable phenomenon was the decrease in numbers of Hispanic/Latino high school students in Liberal, Kansas, from 229 ninth-graders in 2004, to 119 seniors in 2007, a 48 percent drop. ...